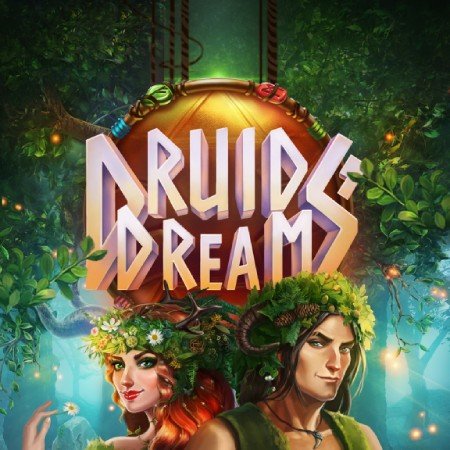 Skorzystaj z bonusu bez depozytu w kasynach:
Więcej
3050 PLN w bonusach + 500 darmowych spinów
Płatności: Visa, MasterCard, ecoPayz, Trustly,
Przenieś się do świata celtyckiej magii dzięki automatowi online Druid's Dream
Druid's Dream to automat online o tematyce celtyckiej, ze wspaniałą atmosferą tajemniczego mroku, w którym nie brakuje równie emocjonujących momentów w grze. Slot osadzony jest w zaczarowanym lesie i zawiera zarówno popularne funkcje kasyn, jak Re-Spins, Scatter Symbols, Wild Symbols i Free Spins, jak i te także bardziej zaawansowane funkcje, takie jak Wild Charges i Nudge Feature.
Jeśli jesteś gotowy na wycieczkę po lasie pełnym tajemnic – wejdź do świata przygód i poznaj sen Druida grając na automacie.
Zagraj na slocie Druid's Dream w tych kasynach:
| | |
| --- | --- |
| Producent gry | NetEnt |
| Typ maszyny | video automat |
| Linie płatne | 40 |
| Bębny | 5 |
| Min. zakład | 0,20 |
| Max. zakład | 400 |
| RTP | 96% |
Druid's Dream: Oprawa graficzna
Druid's Dream to nowiutki automat w klimacie celtyckim dostarczony dla graczy przez szwedzkich programistów NetEnt. Co ciekawe, głównymi konkurentami w tej kategorii są klasyczna gra NetEnt Secret of the Stones oraz najnowsza wersja, która została przebudowana na MAX.
Grazostała wykonana w stylu spękanego kamienia i pojawia się przed wielkim, świecącym drzewem, które delikatnie faluje na wietrze. Gra Druid's Dream ma miejsce się w spokojnym lesie wypełnionym dzikimi stworzeniami, mistycznymi przedmiotami i pięknie zaprojektowanymi runami celtyckimi. Wraz z relaksującą muzyką w tle i wspaniałymi animacjami gra doskonale ożywia las druidów, gdy przeglądasz całe mnóstwo funkcji dostępnych w grze.
W większości automatów w kasynie wideo wygrane liczone są od lewej do prawej, co oznacza, że Twoja zwycięska kombinacja musi zaczynać się od lewej rolki. Dzięki systemowi Win Both Ways, z którego korzysta Druids's Dream, Twoje zwycięskie kombinacje będą liczone zarówno z prawej, jak i lewej strony. Oznacza to, że nawet jeśli pierwsze 2 bębny są puste, dopóki ostatnie 3 mają zwycięską kombinację, odbierzesz wygraną!
Automat do gry Druid's Dream ma 5 bębnów, 4 rzędy i 40 linii wypłat – które są ustawione na stałe. Dostępne do gry na wszystkich urządzeniach, w tym smartfonach i tabletach, od 20 do 400 za obrót, kwoty linii wypłat nie można zmienić. Wygrana jest tworzona, gdy otrzymasz 3 lub więcej pasujących symboli, zaczynając od rolki 1, tj. zdobycia symbolu białego wilka na bębnach 1, 2 i 3. Jak już wspomnieliśmy, możesz wygrywać grając w dwie strony, co jest mega rewolucyjne w świecie slotów, ale także wyjątkowo ciekawe dla graczy, którym znudziły się typowe automaty do gry. Druid's DreamRTP wynosi 96%, co jest dość niskim standardem w automatach online.
Podobnie jak w przypadku wszystkich automatów NetEnt, możesz grać w trybie standardowym lub szybkim – kliknij przycisk po prawej stronie głównego przycisku spinowania, aby aktywować szybsze obroty. Możesz również wybrać opcję autoodtwarzania, w której możesz grać losowo, od 10 do 1000 spinów. Masz możliwość zaprogramowania funkcji autoodtwarzania, aby zatrzymywała się na dowolnej wygranej, jeśli pojedyncza wygrana przekroczy określoną kwotę, bądź jeśli Twoje saldo wzrośnie/spadnie o określoną kwotę lub jeśli uruchomisz funkcję Free Spins.
Funkcje Bonusowe w Druid's Dream
Automat Druid's Dream ma wiele dodatkowych funkcji. 2 druidów pojawiających się na stosie wildów oznacza aktywowaną funkcję szarży wildów, która prowadzi do ponownych obrotów. Dostępna jest także funkcja Free Spins, w której będziesz korzystać z wildów i mnóstwa dodatkowych darmowych spinów.
Główną atrakcją gry są symbole scatterów: dwóch druidów zamieszkujących zaczarowany las. Ilekroć jeden z nich pojawia się na bębnach ze stosem symboli wild, aktywowana jest funkcja Wild Charge. Po naładowaniu magią druida każdy wild przyznaje dodatkowy spin i pozostaje na bębnach wraz ze scatterem. Podczas dodatkowych obrotów można aktywować funkcję Nudge (przesunięcia), aby mieć szansę na zdobycie drugiego scattera.
Funkcje Wild Charge i Re-spins
Symbol wild jest kluczem do akcji we śnie druida. Kiedy wild pojawia się w stosie na bębnach 2 lub 4, a także 1 symbol scatter, aktywuje się funkcję Wild Charge.
Każdy załadowany symbol wild daje darmowe ponowne obroty w funkcji Re-spinów. Symbol scatter i wszystkie symbole wieloznaczne, które uruchomiły funkcję ponownych obrotów, pozostaną na miejscu do końca funkcji.
Funkcja Nudge
Podczas ponownych obrotów stos symboli wild pojawiających się na bębnie 2 lub 4 ze scatterem zainicjuje funkcję Nudge (posunięcia) przy następnym ponownym spinowaniu. Daje to szansę na zdobycie drugiego scattera. Możesz także uruchomić funkcję Nudge razem z funkcją Re-spins, jeśli 1 stos wildów wyląduje z symbolem scatter, a drugi stos wyląduje bez niego. Funkcja Nudge trwa do momentu zakończenia ponownych obrotów lub zdobycia drugiego scattera.
Funkcja Darmowych Spinów
Zdobycie obu scatterów na bębnach 2 i 4 w grze głównej lub funkcji Re-spins aktywuje funkcję Free Spins z 6 darmowymi spinami. Każdy zdobyty symbol wild na bębnach 2 i 4 nagrodzi Cię 1 dodatkowym darmowym obrotem. Wszystkie rozpraszające scattery i wildy następnie stają się sticky wilds na czas darmowych obrotów.
Ponadto na bębnie 3 może pojawić się stos wildów ze scatterami – scatter pojawiający się na bębnie 3 razem z wildem daje 3 dodatkowe darmowe spiny.